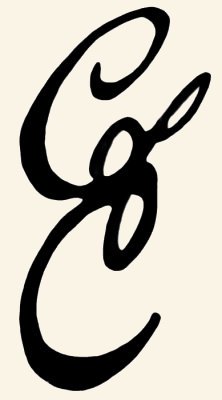 Click on links below to go to those pages!
Email Us
sculptor@castofcharacters.com
Pictures of Hardware in Client's Homes
Patina and Nickel Plating now available for Bronze items!
Examples of Nickel Plated and Patina pieces
Individual Animal Pages (not cat or dog)
Individual Mythical Animal Pages

Link to Terry's Beautiful hand painted cards
Pet Pendants, with or without Clickers
NEW! Fox Hunt (and Dog and Misc.) Bronze Buttons
Horizontal Pet (mostly dog) Pulls
Letter Openers (mostly Dog)
Dog Wall Mounted Bottle Openers
Solo Door Knockers (mostly Dog and Cat)
Dog Small Door Knockers / Cabinet Pulls
Dog Breed Towel or Curtain Rods
Dog Toilet Paper and Paper Towel Holders
Horse head items (clickers, etc.)
Animal Head Deluxe! Finger Pulls
Animal Wall Mounted Bottle Openers
Wildlife Animal Small Door Knockers
Animal Toilet Paper and Paper Towel Holders
You can pay instantly with PayPal by using this link: paypal.me/castofcharacters
What is bronze? Why are some of your pictures different colors? Are they cast of different materials? Are these pieces 100% guaranteed? What is an "oval head screw"? Do these need to be polished? How can I polish these? What is "Lost Wax Casting"? What is "bas relief"? Can I get them in different colors? Do you do custom orders? Will my personal information be safe? How do I order?
You can pay instantly with PayPal by using this link: paypal.me/castofcharacters
---
My dictionary says bronze is a combination of copper and tin and that brass is a combination of copper and zinc. The metal that I use for my work is Harris Low-fuming bronze which is a combination of copper, zinc, and tin. It is called bronze, but it is different from silicone bronze which is a darker, redder metal.
---
All of these pieces are cast in the same metal, but some appear darker because I changed the lighting in order to get them to photograph well. Since they weren't photographed all at the same time, the lighting conditions vary, so some of them look darker or redder. They all start out bright yellow colored, but can be darkened with a Patina, or plated if you want a different color. They take plating beautifully, and I have jus found a new plater, so that service once again available.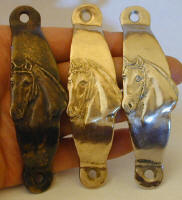 (click on the picture to enlarge it)
Patina (dark coppery brown); natural bronze; nickel plating
(additional charges for patina, black or nickel plating)

Retail Rate

1 - 3 items

Discount Rate

4 - 23 items

Wholesale Rate

24 items and greater

Patina (Dark Coppery Brown)

$3 each

$2.50 each

$2 each

Patina for larger pieces (Large Door Knockers, etc.)
$30 each
$35 each
$20 each

Nickel Plating (prices vary with size and quantity)

(extra time needed for plating, probably 3 - 4 weeks, or longer if the plater is busy)

Please call or email for rates. At least $30 per piece. More for compound pieces, such as Door Knockers ($120), plus shipping to and from plater. Minimum charge for batch is $160.

Bright (shiny) finish is less than the satin finish pictured.
---
Yes, all of my work is guaranteed! You may return any piece that you find unsatisfactory for repair, replacement, or refund. I hand make every piece, so none are absolutely perfect, but customer satisfaction is my ultimate goal.
---
Oval Head means the screw head is lower, not a hemisphere as a round head screw would be. They don't stick up as far, but they are still "round". These seem to suit my style of hardware the best.
---
They need polishing only if you want them to stay bright and shiny. They all come with instructions and are easy to polish. If left to their own devices, they will slowly darken (oxidize) over time. You can coat them with a paste wax, such as Johnson's which will greatly inhibit the oxidation, but may make them difficult to polish in the future. Many people choose to let them mature.
---
It is the nature of bronze to develop a natural patina (darkening) over time and with exposure to acid or alkaline environments. Many people choose to allow this natural aging process and may prefer this appearance to that of a newly polished piece. If you would like to keep the piece shinier, it is easily polished with a soft cloth and a good quality polish like Brasso (my favorite is a paste called Simichrome by Happich which is a paste that can be found in some jewelry supply and antique stores). The polish you use should not feel gritty or you may end up with a satin instead of a shiny finish. If you would like to greatly retard the oxidizing process and maintain the shine, the piece may be coated with a thin film of a good paste wax such as Johnsonís. It may need to be re-coated annually. Do not try to polish a piece that has been wax coated.
---
Lost wax casting is an ancient art, developed thousands of years ago in both China and Africa. In essence, a wax pattern is carved; surrounded with a ceramic slurry; burned away, or "lost"; and replaced by molten metal. You can get a fuller explanation of the process here.
---
Bas is French for Low (a Basset Hound is a low, or short-legged dog). Bas relief means low relief, so the sculpture doesn't rise very far from the base.
---
Yes, these pieces can take a patina, which turns them a rich, dark brown with polished highlights, or they can be plated in many colors including: nickel, copper, silver, etc. I don't do plating (too many toxic chemicals required), so that they must be sent off for this, and it adds an extra charge.
(click to enlarge)
Here the Fox Head is shown with a dark patina (coppery brown), natural bronze, and nickel plating. There is a small fee for adding a patina and an additional fee for nickel plating. (Click here to see fee schedule)
---
Yes, I do many custom pieces depending on the time, and the size requirements. Each one must be evaluated individually. The size that I can cast now is limited to under 4". I can have another foundry cast larger pieces, but this adds a lot of cost. I charge by time, so email me ( sculptor@castofcharacters.com ) if you have an idea you want to see. I also work in silver and gold.
---
Yes, absolutely. Until I have a secure site, do not email credit card numbers to me. Either call me (1-888-495-1090) or email (or send by regular mail -- see address below) your phone number so that I can call you.
I will never give, sell, lease, etc. your personal information such as address, phone number, email address, card number, etc. without your written consent. I pledge to treat your information in the same way I would want my own to be treated. Email me ( sculptor@castofcharacters.com ) if you have a concern.
---
O

ne way is that you can go to my Printable Order Form, print it, fill it out, and send it in!

There are a couple of other different ways you can purchase the items you like.

1. First, check the prices of your item(s) on the "quantity discount" page.

2. Add $8 for shipping most orders in the US, that will fit into a Small Flat Rate Priority Mail Box, or Padded Envelope. For international orders, usually US $27 is sufficient for Canada, and $36 for most other countries by Priority Mail International, but the best idea is to email me ( sculptor@castofcharacters.com ) for an estimate of shipping charges. Larger, heavier shipments will cost more, of course.

3. Total your order (with shipping) and transfer funds by one of the methods listed below:

a.. The easiest, fastest, most secure way to order is by using PayPal. It is a FREE service.
You can send funds to me quickly by going to this link: paypal.me/castofcharacters There is a $8 shipping charge for each address you want to ship to, if the items fit into a Small Flat Rate Priority Mail box.
b. Or, you can email me a list of the items you want, with your phone number (if you want to pay by Visa, Mastercard, American Express, or Discover). Please do NOT email me your card number until I get a secure server. (Using PayPal [above] is secure and recommended.) I can call you to get your card number and its expiration date, or you can call me at 1-888-495-1090, toll free, and leave your number and expiration date with me or on my answering machine. I am the only one with access to the machine, so your card number will be quite safe. I will email or call you back with the total cost of the purchase.
c. You can FAX me your order information to 503-233-2817.
d. You can send me a list of the items (by regular mail) with a check (or your Visa, Mastercard, American Express, or Discover card number, expiration date and signature) for the purchase price plus $8 for shipping to:
A Cast of Characters
1631 SE Main
Portland, OR 97214.
Be sure that you look at the quantity discount page if you are ordering more than 3 items (any selection). Please include your mailing address and a phone number where you can be reached if I have any questions. I will send the items within a couple of days, assuming that I have them in stock. I will verify the receipt of your order via email if you like, and I will also notify you when I send the items by Priority Mail. All items are fully guaranteed, and you may return them for refund if you are not completely satisfied.
Copyright © 1999 - 2018 by Mary Ann Dabritz