BRONZE OVAL PULLS (BOTANICAL)

You can pay instantly with PayPal by using this link: paypal.me/castofcharacters
(Click on pictures to enlarge them)
Oval Ginkgo (gingko)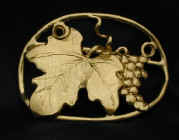 (Click on pictures to enlarge them)
Oval Grape
(Click on pictures to enlarge them)
Oval Ivy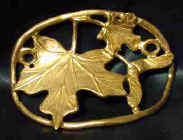 (Click on pictures to enlarge them)
Oval Maple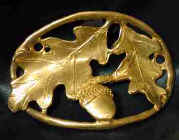 (Click on pictures to enlarge them)
Oval Oak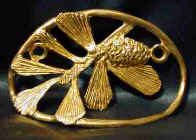 (Click on pictures to enlarge them)
Oval Pine
$30 ea. Quantity discounts available ($25, $22).
You can pay instantly with PayPal by using this link: paypal.me/castofcharacters
As you can see in the side views of each pull,
the lower rims of the ovals are raised to allow ample room for your hand.
Approximately 3 ¾" wide x 2 ¾" high. Oval head screws included.
To place an order, check our information
or you can email us at sculptor@castofcharacters.com
or call us toll free at 1-888-495-1090
Copyright © 1999 - 2017 Mary Ann Dabritz