QUANTITY DISCOUNTS -- you may combine pieces to reach the quantity requirements for a discount (i.e. 1 finger pull, 2 hooks, 1 horizontal pull to achieve 4 items for the discount prices).
(For more examples of Nickel Plated pieces, click here.)
(click on the picture to enlarge it)
Nickel Plated Wild Boar (Boar's Head) Large Door Knocker (with the Bronze one in the last picture)
Here are pieces with and without patina
Newfoundland Large Door Knocker, darker ones are with patina ($5 extra for this size)

(click on the picture to enlarge it)
Horizontal Pulls, Hunt Cap and Whip pulls, Nickel plated on the right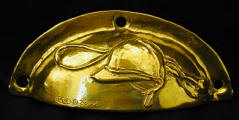 Hunt Cap with Whip (click to enlarge)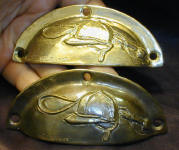 Here it is shown both natural bronze and with a patina (coppery brown)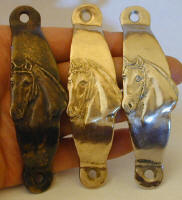 (click on the picture to enlarge it)
Patina (dark coppery brown); natural bronze; nickel plating (satin finish)
(additional charges for patina, black or nickel plating)

Retail Rate

1 - 3 items

Discount Rate

4 - 23 items

Wholesale Rate

24 items and greater

Patina (Dark Coppery Brown)

$2 each

$1.50 each

$1 each

Patina for larger pieces (Large Door Knockers, etc.)
$20 each
$15 each
$10 each

Nickel Plating (prices vary with size and quantity)

(extra time needed for plating, probably 3 - 4 weeks, or longer if the plater is busy)

Please call or email for rates. At least $30 per piece. More for compound pieces, such as Door Knockers ($120), plus shipping to and from plater. Minimum charge for batch is $160.

Bright (shiny) finish is less than the satin finish pictured.
You can pay instantly with PayPal by using this link: paypal.me/castofcharacters
Animal motif (mostly)

Retail Price

1 - 3 items

Discount Price

4 - 23 items

Wholesale Price

24 items and greater

$10
$8
$6

$29

$24

$18

$29

$24

$18

$29

$24

$18

$29

$24

$18

$24

$18

$15

$24

$18

$15

Finger pulls, Deluxe! (select dogs, cats or wild animals)

$25

$22

$18

Large Finger Pulls (knob alternatives)
$70
$60
$50

$16

$14

$10

Dog Bone Handles

$35

$30

$25

Bookmarks

$35

$30

$25

Letter Openers

$35

$30

$25

Bottle Openers

$39

$35

$29

NEW Wall Mounted Bottle Openers

$45

$39

$32

Dog and Animal Ornaments / Pendants

$37

$29

$22

$29

$25

$20

$35

$30

$25

Heart Scarf Rings

$35

$30

$25

Dog or Cat Small Door Knockers / Cabinet Pulls

$39

$35

$29

Solo Door Knockers

OR Hook / Wall Mounted Bottle Openers

$80
$69
$59
Duet Dog Door Knockers

$129

$109

$89

Botanical Duet Door Knockers

$129

$109

$89

Large Door Knockers (prices may vary, depending on subject)
$149
$119
$99
LARGE J Hooks
$109
$89
$69

Dog or Animal Brackets for Toilet Paper and Paper Towel Rolls (6" rod)

For Paper Towels, add $12 for a 12" rod

$149

$161 for Paper Towels

$119

$131 for Paper Towels

$99

$111 for Paper Towels

Dog or Animal Towel Rings

Price includes head with attached 6" diameter Brass Towel Ring, including necessary hardware for mounting

$80
$69
$59
Large Animal Head Towel Rings

(Ring is 6" diameter, but animal head is much larger than the Towel Rings above)

$149
$119
$99
Dog or animal Curtain/ Towel Rods

Price includes 2 dog heads and 6" brass rod with finials, additional lengths available @ $2 for each additional inch.

$99

$89

$69

Bronze Head Pendants (no clicker)

$37

$29

$22

Clicker Pendants

$40

$32

$25

$35

$30

$25

Animal Feet

$25

$22

$18

Pet Hooks (Dog, Cat, etc.)

$35

$30

$25

Dog (or animal) J Hooks

$35

$30

$25

Animal Small Door Knockers / Cabinet Pulls

$39

$35

$29

Duet Animal Door Knockers

$129

$109

$89

Horse Hooks

$40

$35

$30

Horse Plaques

$37

$32

$27

Early Musician Hooks

$35

$30

$25

$35

$30

$25

Sterling Pet Jewelry (pendants)

Prices vary from $60 to $120 and up

depending on piece, discounts for smaller pieces -- see listings

Bronze Pet Lapel pins

$25

$20

$16

Sterling Silver Pet Lapel Pins

$60

$50

$40

Botanical Motif

Retail Price

1 - 3 items

Discount Price

4 - 23 items

Wholesale Price

24 items and greater

$30

$25

$22

$20

$16

$12

$20

$16

$12

$30

$25

$22
You can pay instantly with PayPal by using this link: paypal.me/castofcharacters
Copyright © 1999 - 2017 Mary Ann Dabritz sculptor@castofcharacters.com